On the evening of 25th September we began to receive reports from consumers of receiving a succession of Premium Texts from the 84222 shortcode operated by Tap2Bill. The texts purported to be from a service called Free(b) operated by Moblix Media Ltd and were charged at £1 each. Some consumers reported receiving over 150 such texts over the course of a few minutes. We estimate that well over 6,000 consumers received these texts, and that the total value of the unlawful charges was in excess of £600,000.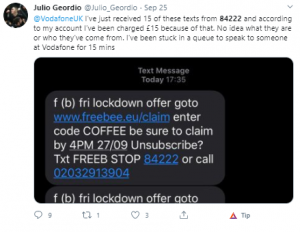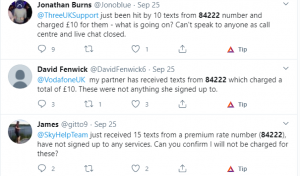 Tap2Bill who sent the texts and applied the charges, accept that they were unlawful and have undertaken to ensure that everyone is refunded. We received correspondence from Tap2Bill saying that the charges would be refunded within 5 business days.
The networks, particularly Three and GiffGaff wasted no time in telling consumers that they "must have subscribed to the service" and that they would not help.  Effectively they were accusing the victims of lying! Consumers who received these responses have yet to receive an apology.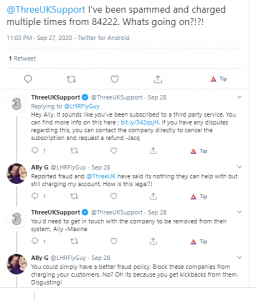 Vodafone and Three and Sky Mobile customers were refunded on Wednesday 30th September.
O2 and Giffgaff continued to blame victims and refuse to help more than a week later.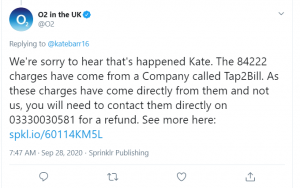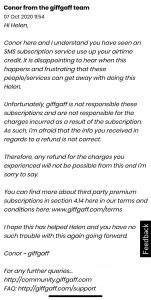 There is no simple system which allows networks to automatically
reverse these charges, and that is part of the problem.
Phone-payment is an appalling system which would not pass FCA regulation if it were subject to it. If thousands of Paypal payments had been taken in error, Paypal themselves would be able to easily reverse them. There is no such simple facility with Phone-payment. The payments can't be simply reversed by a network. Instead, they are dependent on Tap2Bill processing and applying refunds. It is, frankly, outrageous that in this day and age such a payment mechanism is allowed to exist.
There is a fundamental problem with the system overseen by PSA. The networks enter in to a contract with companies like Tap2Bill giving them direct access to their billing system. These charges are truly "beyond the control" of the networks. They make no attempt authenticate the charges made by Tap2Bill. No proof is required that the charges are lawful, and the networks provide no mechanism for you to dispute them or to get them reversed. Despite insisting that the charges are "nothing to do with them" the networks take up to 30% of the charges as a commission for allowing their billing system to be used!
In turn, Tap2Bill contract with companies like Moblix Media which allow them to use their "platform" to make charges directly to consumers' phone bills. This is how a company you have never heard of can make a charge to your phone bill which is almost impossible to recover.
Lasevia, Ferdamia, Wapstar, Remote Games, Bodyin8, Nuyoo and ModoMobi are just a few of the scams previously facilitated by Tap2Bill. Try looking up some of these names on Trustpilot to see scores of complaints of unlawful charges. Yet O2, Vodafone and Three continue to allow them unfettered access to customers' accounts. It is significant that EE was unaffected by this fiasco. Why? Because EE had more sense than to do business with a company that generates large numbers of consumer fraud complaints. Tap2Bill tell me that EE do have some contracts with them, but not for "services" like these.
We believe that the system is in need of a major overhaul. Key to this is that the mobile networks take back control of their billing systems and, like other payment processors, insist on proof of consent before parting with their customers' money.
In the short term, it's time the networks carried out a proper risk assessment of their so called "partners" like Tap2Bill.
In our correspondence with PSA we have said that we believe that they need to take look at the Due Diligence, Risk Assessment and Control measures implemented by Tap2Bill.